Atlas Professionals
Recruiting the Next Generation Wind Professionals
Atlas Professionals is an international leading recruitment company. Since 1982, Atlas has played a major role in the provision of professionals to the energy, marine and renewables industries worldwide. Over the years, Atlas Professionals has grown to become a no-nonsense HR service provider with a mission to turn complex personnel challenges into transparent and secure solutions.
EXPORTING WIND INDUSTRY SKILLS
The UK's pioneering and sought-after wind industry skills are being exported across the world, says Grant Johnston from Atlas Professionals.
Grant Johnston says there has never been a more thrilling time to be part of the offshore wind industry. What's more, his enthusiasm for the sector is infectious.
"It's growing fast," says Grant who is Business Manager – Renewables at Atlas Professionals' (Atlas) Bristol office in the UK. "It's such a change from five or so years ago, when there was talk of offshore being 'too expensive' and 'not profitable enough'.
Now there's so much buzz about renewables in general and offshore wind in particular. Just look at the big oil and gas companies — such as Shell, BP and Equinor — that are getting involved in offshore wind projects because they see a future in them. That's really exciting. The cost of constructing offshore wind farms is at an all-time low, too — and it's only going to become more cost-effective for developers going forward."
The UK is a pioneering force in the wind industry and currently the world's fourth largest producer of wind power, with 8,483 megawatts of offshore capacity and 12,995 megawatts of onshore capacity. "The UK is a market leader," says Grant. "We've always been a great engineering nation and that's helped build our dominance in the sector. The British government is also a very active supporter of renewable energy, which is another reason for our success."
RECRUITMENT FOCUS
At Atlas, Grant is involved in finding skilled personnel for some of the most high-profile offshore wind projects in the UK. These include Ørsted's Hornsea 1 and Hornsea 2 wind farms which, when completed, will make the Yorkshire coast the largest offshore wind location in the world. Hornsea 1 alone will be capable of powering more than one million UK homes with renewable electricity, and will be nearly double the size (1,218MW) of Walney Extension in the Irish Sea, which is currently the world's largest offshore wind farm. "Atlas Professionals is at the centre of Hornsea 1 and 2," says Grant. "We're supplying personnel — including project managers, cable installation managers, engineers and electricians — right through the supply chain, both to Ørsted themselves and to the companies involved in the installation process."
Grant's recruitment focus is much wider than the UK, however. "UK skills are in demand by countries around the world who are following our lead in offshore wind," he explains. "The hotspots at the moment include Taiwan, the North East coast of the US, South Korea and Japan. With a minimal to non-existing offshore wind industry — particularly in Taiwan — these countries require experienced UK or European Offshore Wind professionals to train their local talent, give them an insight into the offshore industry and help them develop their local markets. Our own market analysis shows a huge number of projects will be installed globally in the next 10 years. That's where Atlas comes in."
DEVELOPING SKILLS
"I think training is going to be extremely important in new areas for offshore, such as Taiwan. Atlas has so much to offer them, because we can set up training days and recruitment drives and use our Atlas Competence Programme to help locals develop their skills."
Naturally, this requires strong links and knowledge-sharing between Atlas' offices around the world. "As a company, we're fortunate to have offices in those regions that are now looking to build their offshore wind sectors," says Grant. "For example, we have an office in Boston which is managing requests from developers in the US, and a regional office in Singapore, which is focused on clients and on creating offshore talent pools in Taiwan, South Korea and Japan. Atlas knows the industry inside and out and has a global data base of skilled personnel that can be accessed by our recruiters anywhere in the world."
POSITIVE IMPACT
Grant loves working in an industry which is making such a positive impact on the environment. "Every country is aiming to reduce its carbon emissions, so it's very rewarding to be part of the drive to make offshore projects around the world successful. It's also rewarding to offer opportunities to individuals who want to enter the renewables industry. Every day at Atlas we speak to people who really believe in it and want to help in some way, such as workers from the oil and gas sector. It's been a pleasure to give them advice and training, point them in the right direction — and then watch their careers develop."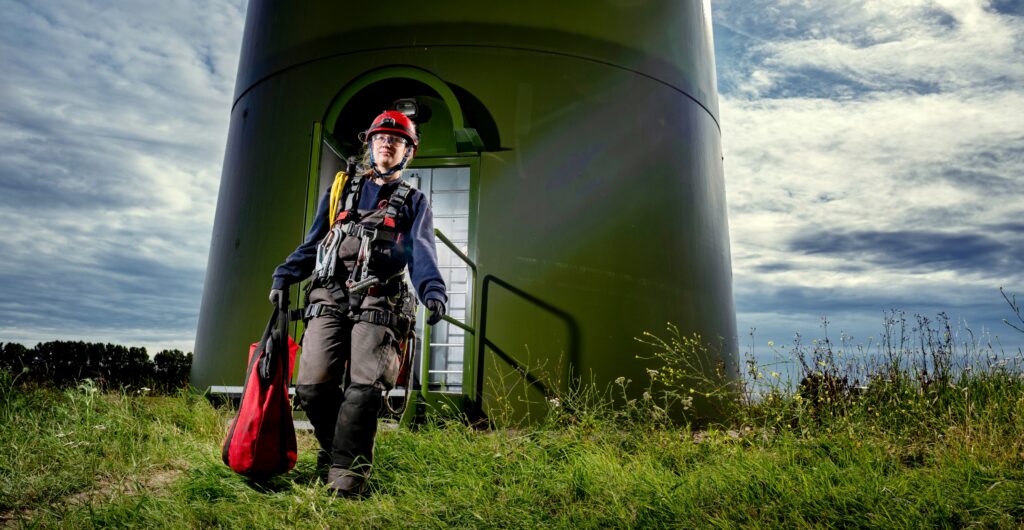 Future of offshore wind
Looking at the future of the wind industry, Atlas sees it as their responsibility to prepare the next generation for the boom in offshore and onshore wind.