Hydrauvision
Challenges you
Hydrauvision is a leading specialist in the field of drive technology. We operate on a global scale as a versatile full-service supplier of hydraulic and electric drives. We design, produce, maintain, revise and rent out hydraulic systems and piping for myriad industrial enterprises, international dredging and offshore companies, civil engineering organisations and other fields of industry in which drive technology plays a major role. For these companies, Hydrauvision is their go-to partner for whom no challenge is too great.
Number one
The only way to become and stay number one is by using high-grade materials, constantly maintaining an ambitious and curious attitude and focusing on delivering the most optimal solutions to your clients. At Hydrauvision, we set a high bar for ourselves. We challenge ourselves to take the road less travelled and always be on the lookout for new opportunities and possibilities. Innovations start with us and we are responsible for some of the best final products around. This makes us the number-one specialist in the field of complete hydraulic and electric drives and their control systems.
Highly diverse
In terms of their nature, scope and complexity, the projects we work on are highly diverse. For example, we not only design, install, launch and maintain innovative megaprojects, but also conduct periodical maintenance on hydraulic machinery and revise or repair drive installations and components. By "we," we mean our employees. They are the ones with the technical knowledge and expertise. They combine high-grade engineering with inventiveness, perseverance and the desire to offer every client the best possible quality of service. They are Hydrauvision.
Our employees
There is much we could tell you about our employees. We could talk about how motivated they are, about the challenges and opportunities we offer them or about how we treat each other here at Hydrauvision. However, we would rather have them tell you themselves what working at Hydrauvision is like. "What I love most about the company is the versatility of the work," says service engineer Glenn Verbeke. "Where I work, in the new systems department, everything is custom made for our clients. Think of e.g. power packs and winches, water transport systems and various other hydraulic solutions. These are often large, powerful systems. That makes it even more fun."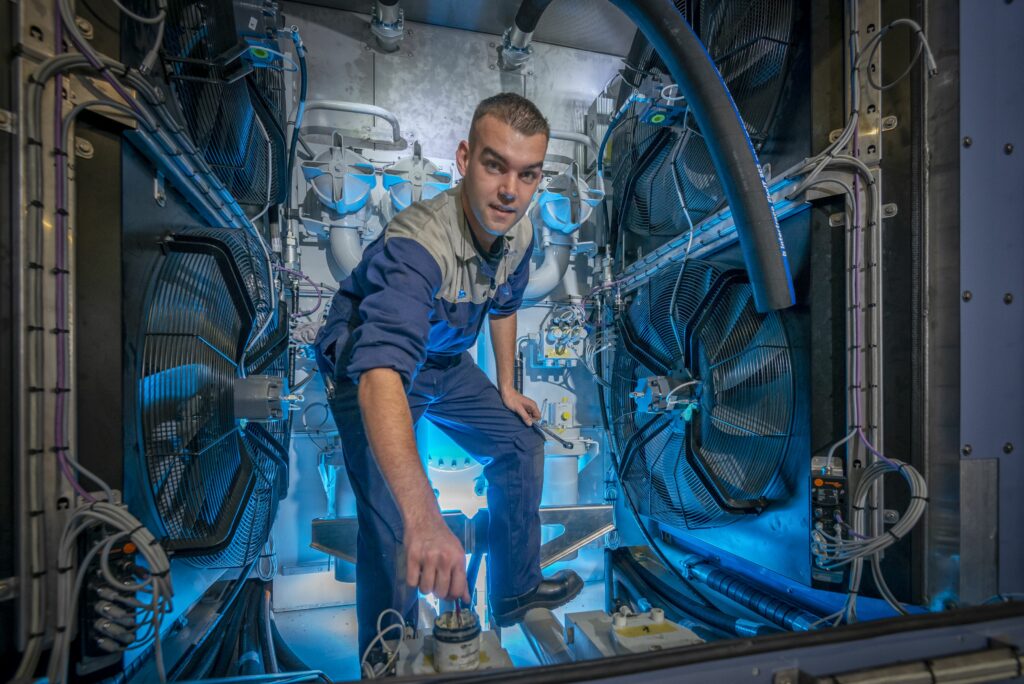 Hydrauvision gives you the opportunity
Glenn joined Hydrauvision immediately after obtaining his degree in Mechanical Engineering. "I had already done an internship and some vacation work at Hydrauvision. I liked that so much that I didn't have to think about it for long when they offered me a job after my final internship. There is so much going on in this organisation and you can truly develop yourself in any direction you want: engineering, service, purchasing/sales, new development, maintenance and more. Hydrauvision gives you the opportunity to acquire experience and offers training programmes to further your professional development. My personal goal is to become a Commissioning Engineer. Hydrauvision is helping me get there. The work I do now, building and testing new systems, is great, but as a Commissioning Engineer, I will also get to commission our installations on site – often abroad. That will be so amazing."
Engineering
Everything Glenn and his colleagues build is designed in Hydrauvision's engineering department. Innovative development projects start here, as do optimisations and expansions of existing hydraulic systems. "I enjoy the innovative development projects the most," says Simulation Engineer Johnny Wang. "Those projects offer maximum freedom in terms of design possibilities. The system you have to design doesn't exist yet, so you are truly forced to think outside the box. It is tremendously motivating. It is always exciting to look for ways to achieve the best possible solutions. Before I joined the company, I had no idea how large the scope of systems really is and just how much is possible in terms of design. Now, my biggest challenge is to create the best drive systems out of all those options."
Different areas of expertise working together
As a Simulation Engineer, Johnny reconstructs the components of a system on the computer to look for ways in which the design can be improved. "We can also do that for existing systems. The challenge there lies in optimising and/or expanding a system. I am not alone in this; I work together with the entire engineering team. Together, we brainstorm about various options and then develop these further. We each bring our own expertise to the table. We look at a project from every angle – e.g. controls, hydraulics and mechanical aspects – and together, we create the best possible drive system that is tailored specifically to the client's wishes and their process."
How we work at Hydrauvision
Although designing and building complete solutions in hydraulic systems is a team effort, we give all our employees individual freedoms and responsibilities. Johnny says: "It is great to work together on amazing projects with colleagues with different areas of expertise, who look at things differently than you do. At the same time, we all have our own specific tasks. It is a highly efficient approach. At Hydrauvision, you get a ton of freedom. I am free to decide exactly how I want to perform my duties. If I want to discuss something, I can always approach my colleagues and supervisor. Everyone is very easy-going and the atmosphere is quite informal. That stimulates collaboration and makes this a truly great place to work."
Projects become reality
For many of Hydrauvision's employees, there is nothing better than seeing the end result of their hard work. The installers see these end results on a daily basis, but the engineers are frequently involved as well. Johnny: "The best part of the job is seeing a project – the thing you came up with – become reality. Whether it concerns a small but critical optimisation that boosts the efficiency of an existing hydraulic system or an innovative technique used in a multi-million-euro project that results in massive improvements to sustainability, it feels great to know that you pulled it off together. I often receive feedback from my colleagues on the work floor. It is immensely gratifying to hear them say that they and the client are happy because everything works well."
At Hydrauvision, we strive every single day to design and build even better, more efficient and more sustainable systems. Will you take on this challenge together with us?
Facts about
Number of Employees: 180
Sector: Civil, Dredging, Energy, Maritime, Offshore
Preferred educational level: Mbo, Hbo, Wo Bachelor, Wo Master
Career level: Student, Starter (< 3 jaar), Young professional (3-5 years), Professional (5-10 years), Senior professional (>10 years)
Preferred education: Mechanical engineering, IT, Electrical engineering, Civil engineering, Mechatronics, Robotics, Industrial automation
Open vacancies: Software engineer , Sales engineer, Service engineer
Related news
List of highlighted news articles