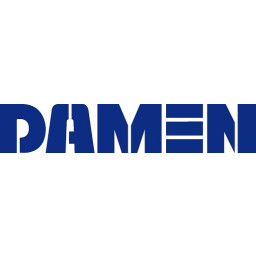 Damen Maritime Ventures
Electrical Design Engineer
Damen Marine Components (DMC) designs and manufactures a range of premium systems that are vital for the propulsion, maneuvering, and performance of vessels engaged in all types of maritime activity. Our primary products are rudder and steering systems, nozzles, winches, control and monitoring systems, hydraulics, deck equipment, anchors and chains. The first two categories are sold under the Van der Velden® trademark. In addition, Damen Anchor and Chain Factory is part of the DMC group.
As well as supplying Damen's global network of shipyards, we work closely with third-party shipbuilding and repair yards and distributors of maritime equipment around the globe. DMC is focused on providing optimal maneuverability designs for every type of vessel, compliant with any classification society.
With several office and production locations in the world, DMC is an internationally orientated company. We offer a global sales network and 24/7 support (service) network to ensure the maximum performance of our products.
For our office in Hardinxveld-Giessendam, we are looking for an enthusiastic, innovative and skilled, Electrical Design Engineer (40 hours a week).
The Electrical Design Engineer carries out project-based engineering- and drawing work on electrical systems.
Has an active, executive role in the engineering and drawing of electrical systems of both new construction and changes after commissioning (as-built):
Manages the standard drawing files and any revisions;
Implements any changes from classification societies, customers and shipyards;
Is the point of contact for classification societies, quality controls and production;
Is involved in developing and improving products;
Provides functional descriptions, FMEA, operational- and service manuals;
Maintains communication with the customer; leads the approval process, sends diagrams and information, answers questions;
Support commissioning and after-sales.
MTS ++ Electrical engineering;
Knowledge of PLC systems;
Experience with SEE Electrical (or similar), Caddy ++;
Knowledge of AUTOCAD Electro and regulations is an advantage;
Good contact skills, self-starter, team player;
Mastery of Dutch and English, German is an advantage;
Affinity with mechanical drawing and the maritime world;
Being able to work independently as well as in a team, open to feedback.
An assessment and pre-employment screening will be part of the application process.
Salary and benefits in accordance with education and work experience
A pleasant, informal working atmosphere in an international environment
A varied function in a dynamic, rapidly growing organization with an open-door culture and excellent possibilities for further individual development