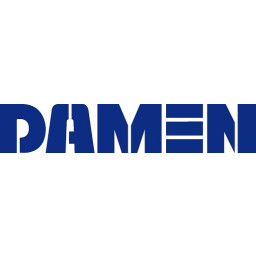 Damen Naval
Technical Subcontract Manager
Damen Naval offers you a career that is challenging, exciting and fun in equal measure. The Naval division of the family-owned Damen Shipyards Group is established in Vlissingen and in Schiedam. It is a company with more than 1.000 professionals, and a rich tradition of naval shipbuilding, its original roots stem back more than 150 years. For more than 50 years Damen Naval has been the dedicated shipbuilder for the Royal Netherlands Navy. Based on decades of accumulated experience, Damen Naval offers navies worldwide a broad range of defence and security vessels, ranging from 7m to more than 200m in length. Damen Naval is the only supplier of naval vessels in the Netherlands. Damen Naval has delivered more than 420 vessels to satisfied customers all over the world and have has earned a reputation for excellence along the way. While taking pride in heritage, Damen Naval is also looking towards the future. Are you ready for duty?
Are you able to work with and manage international sub-contractors to deliver against the contract, acting as technical interface between the sub-contractor and internal project organisation?
As Technical Subcontract Manager you will specify, coordinate, and manage the project of all the technical activities for sub-contracted systems. This can cover above water and underwater sensor systems, weapon, command and control, communication, and navigation systems. The role involves active engagement with the customer, our partners, our engineering team, and the subcontractor. It includes activities related to the definition, procurement, engineering, interfacing, installation, verification, and acceptance of the relevant systems for large design and build projects. This to achieve a successful integration of the various systems into an effective suite for the developed ships and optionally the related land-based facilities that Damen Naval delivers to its customers.
Do you enjoy taking part through the entire development process from tendering up to installation on board and final product acceptance and handover to the customer?
The department has an integral task within Engineering and aims to capture specialist knowledge of naval sensor, weapon and command systems and manage subcontracted suppliers with the objective of successful development, integration, installation, and optimal functioning of these systems on board of the vessel. To achieve this goal, the Technical Subcontract Manager is involved throughout the entire development process, from creating technical specifications during tendering through to the final acceptance of the (subcontracted) system. This characterizes the department as being a technical discipline with a commercial mindset and strong technical, project and contract management capabilities.
As Technical Subcontract Manager you will:
Support the combat system engineering group on sustained performance by delivering quality engineering products within budget and on a timely basis.
Coordinate and facilitate the sub-contractor contribution to the project(s) during preparation and execution phases.
Take ownership of the assigned subcontracts for the entire project to drive and attain targeted results within the set project constraints for schedule, quality, and cost.
Ensure full compliance with all applicable requirements and specifications, as imposed by our customer and Damen Naval.
Organise or participate in project reviews and participate during contractual milestones, tests, and trials, such as FAT's, HAT's, and SAT's, acting as the internal accepting party.
Secure the planning, execution and synchronisation of project activities related to all deliverables and obligations of the sub-contractor, thereby ensuring the proper integration of the related system.
Assist the warranty authority on all warranty queries and issues that are identified in relation to the sub-contractor.
Advise the proposal department on systems identified for new opportunities and support their specification in project proposals to the potential customer.
Support project and proposal evaluations and subcontractor evaluations on all aspects, including cost-benefit analyses.
Assist the Combat System Integrator in defining, establishing, and testing of functional and physical interfaces.
Ensure all Damen company HSSEQ, department policies and procedures are in appropriately used and adhered to, in support of professional workmanship and the company code of conduct.
As Technical Subcontract Manager you need to have:
Bachelor or master's degree in a relevant field and preferably with an Electrical, Aerospace, Maritime or Systems Engineering specialisation.
Experience with naval combat systems or with other highly complex integrated technical systems.
Experience with international technical subcontract management in complex project environments.
Project and contract management skills and experience with legal language and technical terminology.
Knowledge of technical concepts and common engineering practices obtained in engineering role(s).
Ability to oversee the bigger picture, while keeping a sharp eye on the critical details.
Excellent command of the English language and Dutch and/or German language knowledge are a big plus.
Solid communication skills and ability to establish and maintain effective working relationships with sub-contractors.
Able to travel abroad from time to time, when and as required to support project activities and objectives.
EU citizenship and excellent antecedents are required to be considered as viable candidate and a pre-employment security screening is part of the recruitment procedure (given the military nature of the project).
As Damen Naval we highly value our employees and we will support your professional and personal development. To that end we invest in all our employees by offering:
A technology and innovation focused dynamic international work environment.
A competitive salary package and other benefits.
Base work location for this position is either our Vlissingen or Schiedam office, with limited working from home being possible this to be discussed and agreed.
On-going learning and development opportunities within a diverse and rewarding work environment.
An active social environment in terms of business culture, events and sports.
Are you interested in the position of Technical Subcontract Manager and do you recognise yourself in the job description? Please apply directly via the Damen career portalor through the apply now button.
For more information about the vacancy, Damen Naval or the application process, please visit the working at Damen Naval webpageor call the Corporate Recruitment department on +31 (0)118- 485 000.
Damen Naval is closed from 31 July until 13 August due to the summer holiday. This will result in a delayed response to your application.
Please note, that only candidates with an EU citizenship or valid EU work visa will be considered as viable candidates. A pre-employment and security screening and investigation form part of the recruitment process.

Damen Naval does not approve commercial, contractor and/or agency or other commercial use of this advertisement. Proposing candidates without invitation is not appreciated and will not be considered.