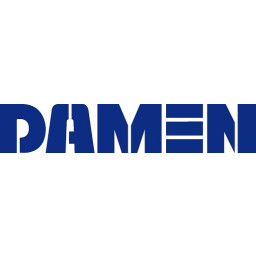 Damen Sales & Services
Technical Author
Vacancy: Technical author, Gorinchem, Netherlands
Damen Services' mission is to support the sales organization of Damen in selling vessels by providing additional value in the form of services. The department gives substance to the concept of high quality and the generally higher cost of acquisition. After the sale of a ship, excellent services are delivered in order to increase the likelihood that a customer chooses Damen again to buy a ship for replacement or expansion.
At the operational level, the Services department maintains contact with clients and is the eyes and ears of the sales organization. Services provide a broad portfolio of services for the entire life cycle of a ship built by Damen. This includes the handling of warranty calls, providing training, providing spare parts, providing maintenance and perform modifications and repairs. That is reflected in the behaviour of its employees; they are always available, proactive, keeping their promises and always do more than is asked of them.
Within the Services department, the question is always: How do we make it happen?
The Asset Management Design department is responsible for developing and supplying Asset management solutions for our customers. This includes products such as Spare part packages, Vessel Operating Manuals, Maintenance plans and Maintenance analysis.
The products are created in multi-disciplinary teams.
As a Technical Author you create clear and unambiguous content for the vessel operating manuals and other ship-related documentation and information products.
Create new documentation and improve or customize existing documentation.
Create clear and unambiguous content for the vessel operating manuals and other ship documentation.
Collect the necessary information through literature study, SME interviews and subject research.
Capture content and resources that are relevant to the audience.
Understand our writing style guide and adds to or refines it.
Analyze and assess the regulations and provisions stated by equipment manufacturers.
Consider relevant laws and regulations.
Manage your own projects, including planning and budget.
To do your work, you:
Are able to work at an HBO level;
Have completed a technical education;
Have worked as a Technical Author for at least 3 years;
Have experience with Adobe FrameMaker. Experience with XML, DITA and CCMS is considered a plus;
Are able to write clear and concise in the English and Dutch languages;
Experience with STE is considered a plus;
Communicate with internal and external customers in a respectful manner;
Are part of a team, but can also complete a project by yourself;
Adjusts well to shifting priorities when necessary.
As a Technical author is this is what you're looking for in a new challenge:
An excellent benefits package tailored to your experience and education level;
An International work environment;
Various growth and development opportunities;
Open, informal, no-nonsense culture with short communication lines;
On-going learning opportunities within a diverse and rewarding work environment.
An active social environment in terms of business culture, events & sports.
Are you ready to apply?
Apply online for the position of Technical author by scrolling down and using the apply button at the bottom of this page. 
We are looking forward to meeting you!
Do you need a bit more info, or looking for something that suits you better?
Don't hesitate to get in touch with Bealien Schot at [email protected] or send me a WhatsApp for questions or information or explore other career opportunities at https://career.damen.com/
Damen Services does not approve of commercial, contractor and/or agency acquisition or commercial use of this advertisement. Proposing candidates without invitation is not appreciated and will not be considered.