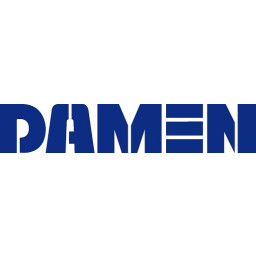 Damen Naval
3DX Delmia Specialist
Damen Naval offers you a career that is challenging, exciting and fun in equal measure. The Naval division of the family-owned Damen Shipyards Group is established in Vlissingen and in Schiedam. It is a company with more than 850 professionals, and a rich tradition of naval shipbuilding, its original roots stem back more than 150 years. For more than 50 years Damen Naval has been the dedicated shipbuilder for the Royal Netherlands Navy. Based on decades of accumulated experience, Damen Naval offers navies worldwide a broad range of defence and security vessels, ranging from 7m to more than 200m in length. Damen Naval is the only supplier of naval vessels in the Netherlands. Damen Naval has delivered more than 420 vessels to satisfied customers all over the world and have has earned a reputation for excellence along the way. While taking pride in heritage, Damen Naval is also looking towards the future. Are you ready for duty?
Damen Naval is currently implementing 3DX Delmia which is a module within 3DX with which manufacturing engineering must be performed. This also requires functional management to keep the package operational and to implement and or develop topics.
As 3DX Delmia specialist at Damen Naval Vlissingen, you will be responsible for the functional management, modeling and enrichment of the 3D model and matching it to the production processes and lines with the Delmia 3DX platform. You will optimize the Delmia 3DX platform and work closely with other departments within the organization to ensure that the platform and processes meet organizational and customer standards.
As 3DX Delmia Specialist at Damen Naval you will:
Maintain best in class level of expertise in 3DX Delmia.
Provide feedback to the Engineering team from using the applications.
Contribute to the development of innovative products, projects, and business processes.
Closely collaborate with the 3DX internal team.
Define business use cases linked to specific Shipbuilding Manufacturing Process.
Propose innovative approaches allowing to stand out as a leader in the market.
Present these solutions during internal or external events to collect comments and improve on their content.
Structure, packages and distribute and communicate demos solutions to make them available to sales force to use
As 3DX Delmia Specialist you need to have:
Experience in 3DX Delmia or Catia development.
Strong functional expertise in Catia or 3DX DELMIA solution is preferred.
Good functional knowledge of CATIA or 3DX DELMIA.
Knowledge of EKL scripting and good skills in objected oriented programming.
Excellent debugging and problem-solving skills.
Excellent verbal and written communication skills.
Excellent antecedents because a pre-employment security screening is a standard part of the recruitment procedure.
Permanent multiyear EU citizenship combined with permanent EU work visa are all requirements of the recruitment process for viable candidates, given the military nature of clients and projects.
At Damen Naval, we highly value our employees, and we will support your professional and personal development. To that end, we invest in all our employees by offering:
A technology and innovation focused, dynamic, international work environment.
A competitive salary package and other benefits.
A comprehensive introduction to shipbuilding for anyone without a naval or maritime background.
Ongoing learning and development opportunities within a diverse and rewarding work environment.
An active social environment in terms of business culture, events & sports.
Are you interested in the position of 3DX Delmia Specialist, and do you recognize yourself in the job description? Please respond directly via the Damen Career Portal.

For more information about the vacancy, Damen Naval or the application process, please visit the Damen Naval website, the Damen Career Portal or call the Corporate Recruitment department on +31 (0)118- 485 000.

Please note, that only candidates with a permanent EU citizenship together with a permanent valid EU work visa can be considered as viable candidates. A pre-employment and security screening and investigation form part of the recruitment process. #LI-DNS1

Damen Naval does not approve commercial, contractor and/or agency or other commercial use of this advertisement. Proposing candidates without invitation is not appreciated and will not be considered.
Meer vacatures van Damen Naval
Geplaatst:
4 dagen geleden
Geplaatst:
4 dagen geleden
Geplaatst:
9 dagen geleden
As Safety Engineer you are part of the system safety team within the project. The System Safety Mana...
Geplaatst:
10 dagen geleden
As Department Manager you are performing the direct line management for the disciplines Naval and Te...