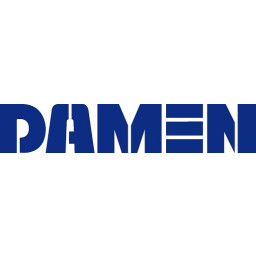 Damen Naval
Engineer ILS (Project Based)
Damen Naval offers you a career that is challenging, exciting and fun in equal measure. The Naval division of the family-owned Damen Shipyards Group is established in Vlissingen and in Schiedam. It is a company with more than 850 professionals, and a rich tradition of naval shipbuilding, its original roots stem back more than 150 years. For more than 50 years Damen Naval has been the dedicated shipbuilder for the Royal Netherlands Navy. Based on decades of accumulated experience, Damen Naval offers navies worldwide a broad range of defence and security vessels, ranging from 7m to more than 200m in length. Damen Naval is the only supplier of naval vessels in the Netherlands. Damen Naval has delivered more than 420 vessels to satisfied customers all over the world and have has earned a reputation for excellence along the way. While taking pride in heritage, Damen Naval is also looking towards the future. Are you ready for duty?
As Integrated Logistics Support (ILS) Engineer (Project Based), you are work on for projects related to services for naval ships. You will be working on projects related to spare parts, in warranty or out of warranty, providing services during the whole life cycle of vessels. The usual service packages that must be delivered normally include technical documentation, maintenance plans for equipment and trainings. To do this, you will work together with the ILS team to prepare ILS documentation.
As Integrated Logistics Support (ILS) Engineer (Project Based) you work on a broad variety of tasks in the field of ILS. You will work in multifunctional teams to develop and deliver the ILS products, on time, within budget and within quality standards. As Engineer ILS you deliver contractual agreed ILS packages and increases customer satisfaction. You will also contribute to the further development of the strategic ILS (technology) roadmap.
As Engineer ILS (Project Based) you will:
Preparing ILS training material for technical equipment and naval products.
Preparing budgetary offers and estimations of projects costs.
Performing ILS analysis such as ISP, ATM and PMS.
Work on ILS products include purchase support, maintenance/LSA including ARM and LCC calculations, supply support, documentation, training and transfer of technology.
Studying the technical regulations and technical drawings that apply in each project.
Studying and reporting the reliability and maintainability of naval equipment.
Cooperate with the technical department and report to the Project Manger ILS.
Support and pro-actively coach the more junior Engineers.
Deliver ILS products and services within time, budget and according to the relevant quality standards.
Assist in drafting and reviewing (part of) ILS proposals and in the further improvement and development of ILS products, processes, and methodologies.
The ideal candidate has experience in the naval or shipbuilding industry and has a solid technical knowledge regarding vessel's equipment. In addition as Engineer ILS (Project Based) you will need to have:
Bachelor or Master degree in the field of marine engineering or similar.
Minimum of two years of experience in development and execution of ILS packages within a technical and/or MoD environment or alternatively a minimum of two years of experience in maintenance in an engineering environment.
Experience in working in multifunctional and multicultural teams and environments.
Good command of the Dutch and English language (written and verbal) and additional languages like Spanish and German are an advantage.
Excellent antecedents because a pre-employment security screening is a standard part of the recruitment procedure.
Permanent multiyear EU citizenship combined with permanent EU work visa are all requirements of the recruitment process for viable candidates, given the military nature of clients and projects.
At Damen Naval, we highly value our employees, and we will support your professional and personal development. To that end, we invest in all our employees by offering:
A technology and innovation focused, dynamic, international work environment.
A competitive salary package and other benefits.
Ongoing learning and development opportunities within a diverse and rewarding work environment.
An active social environment in terms of business culture, events & sports.
Are you interested in the position of Engineer ILS (Project Based) and do you recognise yourself in the job description? Please respond directly via the Damen Career Portal.

For more information about the vacancy, Damen Naval or the application process, please visit the Damen Naval website, the Damen Career Portal or call the Corporate Recruitment department on +31 (0)118- 485 000.


Damen Naval does not approve of commercial, contractor and/or agency acquisition or commercial use of this advertisement. Proposing candidates without invitation is not appreciated and will not be considered.
Meer vacatures van Damen Naval
Geplaatst:
7 maanden geleden
Geplaatst:
7 maanden geleden
Geplaatst:
7 maanden geleden
Geplaatst:
5 dagen geleden
Geplaatst:
2 maanden geleden
The Strategic Purchaser E&A/Combat develops, improves, and ensures professional relationships with (...
Geplaatst:
2 maanden geleden
The Tactical Purchaser is part of (one or more) project team(s) led by the Project Manager Procureme...