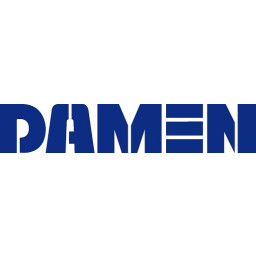 Damen Naval
Naval Architect – Change Coordinator (Project Base...
Damen Naval offers you a career that is challenging, exciting and fun in equal measure. The Naval division of the family-owned Damen Shipyards Group is established in Vlissingen and in Schiedam. It is a company with more than 850 professionals, and a rich tradition of naval shipbuilding, its original roots stem back more than 150 years. For more than 50 years Damen Naval has been the dedicated shipbuilder for the Royal Netherlands Navy. Based on decades of accumulated experience, Damen Naval offers navies worldwide a broad range of defence and security vessels, ranging from 7m to more than 200m in length. Damen Naval is the only supplier of naval vessels in the Netherlands. Damen Naval has delivered more than 420 vessels to satisfied customers all over the world and have has earned a reputation for excellence along the way. While taking pride in heritage, Damen Naval is also looking towards the future. Are you ready for duty?
For this interim role Damen Naval is looking for a Change Coordinator who can start on short notice and on a temporary basis for at least two years.
As Change Coordinator you will act on the interface between technical and administrative content. Changes can involve customer requirements and documents, drawings, calculations and might be initiated by the customer, partners, subcontractors, suppliers and Class.

Change Management is part of Configuration Management and is the technical administrative support to control the primary process (value chain). As Change Coordinator you must understand the engineering process to be a credible partner to the executing engineers and the interaction of all aspects in a potential change. At the same time, you like the coordinating and organizing nature of the role. With changes you must be sensitive towards the attitude of colleagues and team up with them. 
As Change Coordinator (Project Based) you will be responsible for:
Support change initiation, issue identification and issue description sheet (ICR).
Verify if appropriate change level is assigned.
Define and execute and/or delegate actions for impact analysis.
Monitor progress and change from action holders where needed.
Organize and prepare Change Board meetings on proper level.
Prepare minutes of meeting and/or progress logs.
Initiate change implementation, ensure implementation actions are planned, executed, and communicated.
Closure of changes after implementation and verification.
As Change Coordinator (Project Based) you need to have:
Broad General Engineering knowledge of Naval vessels.
Experience and affinity with administrative tasks in a complex technical setting.
Naturally driven to get the work done to the end support and to facilitate engineers and other colleagues.
Competences: precise, thorough, disciplined, socially sensitive, able to motivate engineers, resolute, persistent, resilient, professionally outgoing, customer orientated, teamwork, result orientated, behavioural flexibility and quality orientation.
Good command of the Dutch and English language written and verbal and German is a plus.
Excellent antecedents as a pre-employment security screening are a standard part of the recruitment procedure.
Permanent multiyear EU citizenship combined with permanent EU work visa are all requirements of the recruitment process for viable candidates, given the military nature of clients and projects.
At Damen Naval, we highly value our employees, and we will support your professional and personal development. To that end, we invest in all our employees by offering:
A technology and innovation focused, dynamic, international work environment.
A competitive salary package and other benefits.
Ongoing learning and development opportunities within a diverse and rewarding work environment.
An active social environment in terms of business culture, events & sports.
Are you interested in the position of Change Coordinator (Project Based), and do you recognise yourself in the job description? Please respond directly via the Damen Career Portal.

For more information about the vacancy, Damen Naval or the application process, please visit the Damen Naval website, the Damen Career Portal or call the Corporate Recruitment department on +31 (0)118- 485 000.

Please note, that only candidates with a permanent EU citizenship together with a permanent valid EU work visa can be considered as viable candidates. A pre-employment and security screening and investigation form part of the recruitment process. #LI-DNS1
Damen Naval does not approve commercial, contractor and/or agency or other commercial use of this advertisement. Proposing candidates without invitation is not appreciated and will not be considered.
Meer vacatures van Damen Naval
Geplaatst:
4 dagen geleden
Geplaatst:
4 dagen geleden
Geplaatst:
9 dagen geleden
As Safety Engineer you are part of the system safety team within the project. The System Safety Mana...
Geplaatst:
10 dagen geleden
As Department Manager you are performing the direct line management for the disciplines Naval and Te...