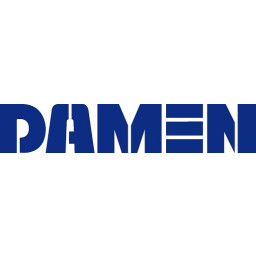 Damen Naval
Specialist Preservation, Welding and Adhesives
ABOUT US

Damen Naval offers you a career that is challenging, exciting and fun in equal measure. You could join our team of over 500 professionals in our locations in Schiedam and Vlissingen. The Naval division of the family-owned Damen Shipyards Group is renowned internationally for its on-time, on budget delivery of high-quality naval vessels, as well as its role of full-service provider, or integrator, throughout the life-cycle of its products. The division has a rich history reaching back over 140 years and is proud of its long tradition of serving the Royal Netherlands Navy (RNLN), the launching customer of eight successive generations of Damen Combatants. Today, Damen Naval operates yards and specialist engineering companies in the Netherlands, Belgium and Romania and additionally constructs vessels at non-Damen locations of clients' choosing all around the world. Damen Naval is looking towards the future. Together with its partners, the division undertakes in-depth R&D with a view to optimising the efficiency of naval shipbuilding processes for the future. Are you ready for duty?
THE ROLE
As Specialist Preservation, Welding and Adhesives you will be part of the Research & Technology Support group which is part of the Engineering Department and is made up of various specialists. The group conducts research and supports developments regarding new types of ship, as well as supporting the Products & Proposals Department in order to determine contract specifications. The group also supports engineering and production when detailing the design and issue specification and instructions. As Specialist Preservation, Welding and Adhesives you will both at the Damen Naval shipyard and temporarily on location abroad.
KEY ACCOUNTABILITIES
As Specialist Preservation, Welding and Adhesives you are responsible for:
Drawing up and assessing contractual documents with regard to preservation, welding and adhesives.
Determining technical specifications and instructions based on contractual documents and classification requirements for procurement of components and for the execution of preservation, welding and adhesives activities on board.
Determining and assessing specifications for the application of composite deck covering and bonding techniques such as adhesive bonding for primary and secondary structures.
Assessment of corrosion prevention measures.
Maintaining contact with suppliers, subcontractors and engineers within the organisation with regard to preservation, welding and bonding.
Initiating and conducting research with regard to preservation, welding and bonding.
SKILLS & EXPERIENCE
As Specialist Preservation, Welding and Adhesives you need to have:
Bachelor or Master degree in corrosion protection technology or an equivalent qualification from a painting academy (FROSIO) with specific modules in corrosion and metal preservation.
Welding certificate or equivalent qualification (IWT or IWE) is preferred.
Personal characteristics: affinity with maritime industry, cost-conscious, team player, decisive, works in a structured manner, identifies problems and sets priorities.
Excellent command of Dutch and English language (written and verbal) is essential.
Excellent antecedents as a pre-employment security screening and investigation are a part of the recruitment procedure (given the military nature of the projects).
EU citizenship or valid EU work visa required to be considered as viable candidate.
WHAT WE OFFER
We highly value our employees and support your professional and personal development. Therefore we invest in all our employees by:
A technology and innovation focused dynamic international work environment.
A competitive salary package & other benefit.
On-going learning opportunities within a diverse and rewarding work environment.
An active social environment in terms of business culture, events & sports.
OTHER
Are you interested in the position of Specialist Preservation, Welding and Adhesives and do you recognise yourself in the job description? Please apply directly via the Damen career portal or through the apply now button.
For more information about the vacancy, Damen Naval or the application process, please visit the working at Damen Naval webpage or call the Corporate Recruitment department on +31 (0)118- 485 000.
Please note, that only candidates with an EU citizenship or valid EU work visa will be considered as viable candidates. A pre-employment and security screening and investigation form part of the recruitment process.

Damen Naval does not approve commercial, contractor and/or agency or other commercial use of this advertisement. Proposing candidates without invitation is not appreciated and will not be considered.
Meer vacatures van Damen Naval
Geplaatst:
30 dagen geleden
As Technical Specification Engineer you will work on a broad variety of tasks in the field of Marine...
Geplaatst:
30 dagen geleden
As Contract Manager Naval you will support (project) management in the process of systematically and...