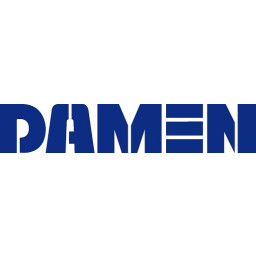 Damen Naval
Team Lead Manufacturing Engineering and Production
Damen Naval offers you a career that is challenging, exciting and fun in equal measure. The Naval division of the family-owned Damen Shipyards Group is established in Germany and in Vlissingen and Schiedam The Netherlands. It is a company with more than 1.000 professionals, and a rich tradition of naval shipbuilding, its original roots stem back more than 150 years. For more than 50 years Damen Naval has been the dedicated shipbuilder for the Royal Netherlands Navy. Based on decades of accumulated experience, Damen Naval offers navies worldwide a broad range of defence and security vessels, ranging from 7m to more than 200m in length. Damen Naval is the only supplier of naval vessels in the Netherlands. Damen Naval has delivered more than 420 vessels to satisfied customers all over the world and has earned a reputation for excellence along the way. While taking pride in heritage, Damen Naval is also looking towards the future. Are you ready for duty?
Damen Naval, a prominent marine shipbuilding company with operations in The Netherlands and Germany, is currently seeking an experienced and skilled professional for the role of Team Lead Manufacturing Engineering and Production. This challenging opportunity is based in Vlissingen, and it requires a proven track record of seven years of relevant experience in Production processes within the naval vessel industry. The ideal candidate will have leadership experience, preferably in the (naval) shipbuilding industry, along with knowledge of PDM software and computer-aided design tools such as Cadmatic and Inventor.
As Team Lead Manufacturing Engineering and Production at Damen Naval, you will be responsible for providing functional leadership to a group of Manufacturing Engineering (ME) professionals in the Project Department, or a team of (senior) supervisors in the Production Department. Your primary objective will be to lead and ensure that the team have the necessary resources and knowledge to effectively carry out Manufacturing Engineering and Production activities. The Manufacturing Engineering discipline focuses on maximizing efficiency and effectiveness by analysing equipment layout, workflow, and assembly methods for one of the four-yard manufacturing disciplines: Hull, Piping, Outfitting, and Mechanical. Additionally, you will serve as the go-to person for all production-related disciplines and play a pivotal role in advising other departments, including Engineering and Purchasing.
As Team Lead Manufacturing Engineering and Production, your key responsibilities will include:
Leading and coaching a medium to large-sized manufacturing engineering team in naval vessel manufacturing projects and conducting appraisals or providing input to appraisals.
Participating in and supervising a manufacturing engineering team to optimize the vessel manufacturing process.
Leading and coaching a production team in production activities.
Managing team resource planning, ensuring that all members possess the required capabilities, and measuring/driving internal performance across all aspects of the team.
Managing multiple internal stakeholders, such as other teams and departments, to ensure the execution and quality of assigned projects within agreed schedules, required quality standards, and budgetary constraints.
Developing and implementing necessary policies and procedures to ensure that the team achieve its business objectives.
To excel as Team Lead Manufacturing Engineering and Production, you should possess the following qualifications and qualities:
Bachelor degree in a technical field, combined with a minimum of seven years of relevant experience in Production processes within the naval vessel industry.
Experience in leading a team of specialists, preferably in the (naval) shipbuilding industry.
Proficiency in PDM software and computer-aided design tools, such as Cadmatic and Inventor.
Good command of the English, and preferably also Dutch language both written and verbal.
Excellent antecedents as a pre-employment security screening standard part of the recruitment procedure.
Permanent multiyear EU citizenship combined with permanent EU work visa are all requirements of the recruitment process for viable candidates, given the military nature of clients and projects.
At Damen Naval, we highly value our employees, and we will support your professional and personal development. To that end, we invest in all our employees by offering:
A technology and innovation focused, dynamic, international work environment.
A comprehensive introduction to shipbuilding for anyone without a naval or maritime background.
Ongoing learning and development opportunities within a diverse and rewarding work environment.
An active social environment in terms of business culture, events & sports.
For more information about the vacancy, Damen Naval or the application process, please visit the Damen Naval website, the Damen Career Portal or call the Corporate Recruitment department on +31 (0)118- 485 000.
Damen Naval is closed from 31 July until 13 August due to the summer holiday. This will result in a delayed response to your application.

Please note, that only candidates with a permanent EU citizenship together with a permanent valid EU work visa can be considered as viable candidates. A pre-employment and security screening and investigation form part of the recruitment process. #LI-DNS1

Damen Naval does not approve commercial, contractor and/or agency or other commercial use of this advertisement. Proposing candidates without invitation is not appreciated and will not be considered.