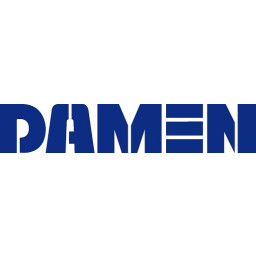 Damen Naval
Teamlead Electrical Engineering
Damen Naval offers you a career that is challenging, exciting and fun in equal measure. You could join our team – over 500 professionals in our locations In Schiedam and Vlissingen. The Naval division of the family-owned Damen Shipyards Group is renowned internationally for its on-time, on budget delivery of high-quality naval vessels, as well as its role of full-service provider, or integrator, throughout the life-cycle of its products. The division has a rich history reaching back over 140 years and is proud of its long tradition of serving the Royal Netherlands Navy (RNLN), the launching customer of eight successive generations of Damen Combatants. Today, Damen Naval operates yards and specialist engineering companies in the Netherlands, Belgium and Romania and additionally constructs vessels at non-Damen locations of clients' choosing all around the world. Damen Naval is looking towards the future. Together with its partners, the division undertakes in-depth R&D with a view to optimising the efficiency of naval shipbuilding processes for the future. Are you ready for duty?
For the new German F126 frigate program, Damen Naval is searching for a Teamlead Electrical Engineering. As Teamlead Electrical Engineering you will be responsible for the Automation part of engineering and will have a key-role in this large project. You will be involved in the project to setup a solid work break down and planning structure for all tasks that belong to the discipline and leading a small/mid-size team of several (Senior) Automation Engineers during the execution of the project, in order to deliver the required engineering output. As Teamlead Electrical Engineering you will be ultimately responsible for the desired quality, timely delivery and reporting to the Project Manager Engineering.
About the department
The Electrical & Automation department is part of the multidisciplinary Engineering department and responsible for the design, specification, selection and integration of all electrical and automation systems on board of our vessels. These systems are very extensive and include electrical power distribution, lighting, platform automation, navigation, communication, networking and IT systems and much more. All systems are based upon client requirements and applicable rules & regulations, while they are engineered in close cooperation with suppliers, co-makers and other departments. The main activities within this department are:
Requirements engineering and development of conceptual system designs.
Development of technical specifications for (subcontracted) systems.
Technical review of offers from suppliers and co-makers, together with the procurement department.
Development of functional system descriptions and diagrams.
Integration of electrical parts and systems in close cooperation with main co-makers.
Management of all electrical/data interfaces between (subcontracted) systems.
Routing of cables in a 3D CAD environment.
Development and review of test protocols.
Attend Factory Acceptance Tests for main subcontracted systems.
Support the building yard during production and commissioning till vessel delivery.
Contribute to design studies and proposals for new projects.
As Teamlead Electrical Engineering you will be responsible for:
Leading a small/mid-size electrical engineering team (4-8 people) during the execution of the project.
Coaching the electrical engineering team to work according to internal standards.
Composing work break down structures and assign labor/cost budgets.
Leading the Requirements Engineering and Systems Engineering process for the Electrical Systems.
Leading the electrical engineering process by developing and reviewing the required deliverables, such as specification documents, functional descriptions, schematic drawings and test/validation plans.
Managing vendors and subcontractors to get their timely contribution to the project.
Organizing design checks and reviews in order to guarantee the required quality.
Verifying technical performance of vendors and subcontractors.
Performing technical analysis on received offers, in close cooperation with the Purchase department.
Monitoring and controlling man-hour budget and makes progress reports to the Project Manager Engineering.
Coordinating technical support or commissioning activities for the project under contract.
Ensuring full compliance to all applicable requirements and specifications imposed by class and the customer.
Contributing to the further development of the E&A Engineering department.
Helping to develop and describe standards and working methods.
As Teamlead Electrical Engineering you need to have:
Professional education on Bachelor or Master level in Electrical Engineering, Computer Engineering, Technical Automation or another relevant technical discipline.
Minimum of five year experience in the design of (complex) electrical systems, preferably in ships, offshore or industrial installations.
Experience in working in large project environments with high level of complexity.
Experience in leading a small/mid-size engineering team up to 10 people.
Project Management skills on medium or high level.
Experienced to work with and manage third-party vendors and subcontractors.
Able to structure work packages and get them realized according to the contracted planning and labor/cost budgets.
Used to work on class-regulated products and to Good Engineering Practices, including quality and budget awareness.
Excellent command of Dutch and English language (written and verbal) is essential and German language skills are preferred.
Excellent antecedents as a pre-employment security screening and investigation are a part of the recruitment procedure (given the military nature of the project).
EU citizenship or valid EU work visa required to be considered as viable candidate.
We highly value our employees and support your professional and personal development. Therefore we invest in all our employees by:
A technology and innovation focused dynamic international work environment.
A competitive salary package & other benefit.
On-going learning opportunities within a diverse and rewarding work environment.
An active social environment in terms of business culture, events & sports.
Are you interested in the position of Teamlead Electrical Engineering and do you recognise yourself in the job description? Please respond directly via career.damen.com.
For more information about the vacancy, Damen Naval or the application process, please visit career.damen.com or call the Corporate Recruitment department on +31 (0)118- 485 000.

Please note, that only candidates with an EU citizenship or valid EU work visa will be considered as viable candidates. A pre-employment and security screening and investigation form part of the recruitment process.
Damen Naval does not approve of commercial, contractor and/or agency acquisition or commercial use of this advertisement. Proposing candidates without invitation is not appreciated and will not be considered.
Meer vacatures van Damen Naval
Geplaatst:
2 dagen geleden
As Senior Specification Engineer at Damen Naval you will analyse and assess specifications, set up, ...
Geplaatst:
2 dagen geleden
As Structures Engineer you work on a broad variety of tasks in the field of ship structures.
Geplaatst:
8 dagen geleden
Geplaatst:
13 dagen geleden
Geplaatst:
13 dagen geleden
Geplaatst:
13 dagen geleden