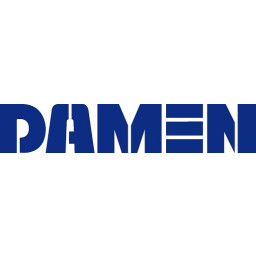 Damen Offshore & Specialized Vessels
Junior Project Designer
As Damen Offshore & Specialized Vessels we design and deliver maritime projects for various markets like defense & security, public transport, offshore and dredging.
Our projects are Engineered to Order (ETO). Which means we are involved throughout the project, from the commercial phase and building strategy, until commissioning, delivery and warranty. This makes our work very challenging because the environment is complex and we have a lot of stakeholders.
We work in close cooperation with various internal departments, (sub)contractors, teams on the shipyard and of course the client and her representatives. We do this with an international team of 'can-do' people that are developing new and innovative technologies and ways to support customers and push for a more sustainable maritime industry.
For the Design & Proposal department at Damen Offshore & Specialised Vessels (OSV), we are looking for a Junior Project Designer. 
As a Junior Project Designer at OSV, you would like to modify and/or design a vessel according to the client's requirements and also work on improving our standard. You will work in both 2D and 3D, depending on the requested output. You will work in a small team of Project Designers called the "Support Group" and you will work for several departments.
In this role, you will perform tasks including the following:
Designing or modifying ships in various 2D and 3D software tools;
Making sure the designs and modifications are in accordance with customer requirements and rules and regulations;
Working in a team as well as independently;
Following new developments in 2D, 3D and Gaming technologies;
Monitoring the DAMEN standard, a recognizable appearance of our products;
Assist in creating state-of-the-art presentations of our products in line with our corporate identity.
As a successful (Junior) Project Designer, we need you to bring the following skills:
A completed MBO education in Marine Engineering (or Mechanical Engineering, combined with an affinity for shipbuilding);
Advanced knowledge of and experience with AutoCAD and Rhinoceros3D;
Knowledge of, or eager to learn, Adobe Photoshop, rendering and animation;
A "hands-on" mentality, autonomy and independence;
The ability to prioritize, work efficiently and accurately;
Preferably, you have some relevant work experience.
At DAMEN, we realize the importance of supporting and managing talented people. We understand that the key to success lies in finding the right person for the right job. That is why we help you develop new skills when needed. We offer a competitive package of employment terms, based on our collective labour agreement Metalektro.
We offer you:
Personal guidance, freedom, varied work and a work environment where your opinion counts;
An excellent benefits package tailored to your experience and education level;
A dynamic international working environment focusing on technology and innovation;
An open, informal, no-nonsense culture with short communication lines;
An active social environment in terms of business culture, events and sports.
We look forward to meeting you! Do you need more information? Don't hesitate to get in touch with Gerard Eggink (Recruiter) 06-10 26 55 93
Damen Workboats does not approve of a commercial, contractor and/or agency acquisition or commercial use of this advertisement. Proposing candidates without invitation is not appreciated and will not be considered.
#LI-GE2