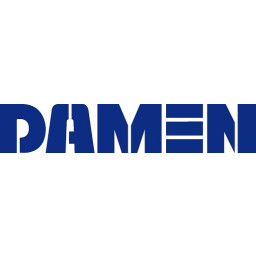 Damen Offshore & Specialized Vessels
Project Controller OSV
The MSV Division (Mid-Sized Vessels) represents one of the four ship-newbuild domains of Damen Shipyards, alongside Workboats, Yachting and Naval. MSV focuses on selling, designing, engineering, building and commissioning of mid-sized vessels. These vessels are characterized as technologically complex, ETO (engineered-to-order), built as one-off or in limited series.
Mid-Sized Vessels (MSV) is looking for a Project Controller within the Finance & Control (F&C) department.
The department F&C of MSV is responsible for the financial management of the division. The division consists of the organization in Gorinchem, engineering companies in Poland and Ukraine and two yards in Romania.
The financial management is organized in two, being Project Control and Business Control. The focus of Project Control is on project results whereas the focus of Business Control is on the entities within the division and the consolidated result of the division.
The Project Controller is responsible project control of new building projects of MSV. Project control encompasses the end to end process from initial estimate to final outcome and involves every part of the division: the Design & Proposal department in Gorinchem, the engineering companies and the yards.
In this role you will support the Project Manager during every stage of the project. The project controller makes sure the Project Manager is timely informed on (financial) developments, risks and potential mitigating actions or opportunities to improve the project result.
To do so the Project Controllers knows the details of the project planning and contracts with the customer, subcontractors and suppliers, keeps track of purchase orders, invoices and estimates the final outcome of a project. The Project Controller's focus is on accuracy of costs and completeness of income.
The Project Controller takes a pro-active role, makes sure she/he knows potential issues and timely suggests actions to improve project result. In the month end closing process, the Project Controller manages revenue and costs recognition, forecasted result and cash flow of a project.
This position will require regular travel to the yards of the group to stay up to date on project progress and liaise with project management and local project administration.
Analysis, evaluation and forecasting of project progress versus plan, with a focus on financials
Support to Project Management
Checking of cost entries and purchase orders
Check on potential VTC's
Control working capital: receipts from clients and payments to subcontractors, bank guarantees
Together with the Project Manager update estimates at completion
Together with the Project Manager keep track of risks and opportunities
Month end closing processes: revenue and costs recognition, update of estimates, cash flow, project reporting.
Monthly reconciliation of project results with results of the division and intercompany charges.
Improve the project administration and operational processes
In order to be successful in this role you bring the following:
A background in Finance or Economics;
Vast experience in a similar role in a project driven environment;
Analytical skills, understanding what is behind the numbers;
Excellent communication skills;
A proactive and critical attitude;
The ability to plan and organize;
A proven ability to work in a team;
Maintaining overview;
A good command of the English language.
At Damen we realize that supporting and managing talented individuals is of great importance. We understand that the key to success is to find the right person for the right job. That is why we continuously invest in your development. Damen offers you (in case of full time employment):
A dynamic international working environment focusing on technology and innovation
A competitive salary
At least 40 days of annual leave
Travel allowance
Profit sharing & pension allowance
Continuous focus on professional and personal development through our Damen Academy
An active social environment such as events and sports
An assessment and a pre-employment screening can be a part of the recruitment process.
We look forward to meeting you! Do you need more information ? Don't hesitate to get in touch with Gerard Eggink (Recruiter) 06-10 26 55 93 

Damen Mid-Sized Vessels does not approve of a commercial, contractor and/or agency acquisition or commercial use of this advertisement. Proposing candidates without invitation is not appreciated and will not be considered.
#LI-GE2
Meer vacatures van Damen Offshore & Specialized Vessels
Geplaatst:
22 dagen geleden
As a junior Design & Proposal Engineer you will be working on concept designs, individually and in t...