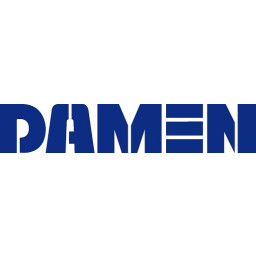 Damen Workboats & High Speed Craft
Procurement Manager Workboats
Vacancy: Procurement Manager, Gorinchem, Netherlands
Do you want to work with an international team of 'can-do' people that are developing new and innovative technologies and ways to support customers and push for a more sustainable maritime industry?
If you answered 'yes' to this question, then you may be a good fit for Damen Workboats!
We are hiring for a range of non-technical and technical positions, and we are hiring to fill the job vacancy for Manager Procurement
Nice to meet you! We are Damen Workboats.
We develop, design and construct tugs, stationary dredgers, and high-speed crafts. We are working on developments like autonomous sailing, smart and predictive maintenance, hybrid-electric propulsion systems, etc. Our vessels are being built at our yards in Vietnam, China, Turkey and the Netherlands.
Meet the Procurement Team!
The procurement team is part of the department Supply Chain. We are responsible for a continuous and reliable supply chain to serve the Workboats yards in a steady flow of production. Combining the standardised assortments and the supplier partnerships and at the same time reacting responsively and efficiently to meet client-specific requirements. The Manager Procurement is part of the coalition to make this vision become reality: help realise the cultural and organisational change from being a project-oriented organisation to a process-oriented organisation.
Are you a good fit for the role of Manager Procurement at Damen Workboats?
As Procurement Manager you are responsible to formulate the procurement strategy and develop the department plan in line with the Workboats Supply Chain strategy and business needs. As Manager Procurement you develop, manage, implement, and monitor the realisation of the procurement plan and steer on performance.
This is a good fit if you like to do the following:
Lead, coach, appraise and develop the team;
Participate in the definition and execution of the Supply Chain strategy, including the development of the procurement organisation;
Inform the team about (business) developments and advocate and support the Damen Workboats strategy;
Ensure the organisation and execution of procurement for Workboats Supply Chain;
Signal and analyse relevant procurement developments with regard to suppliers, prices, cost developments and opportunities; Manage and arrange the assessment, selection and performance of existing and new suppliers and monitor service level agreements in line with contractual agreements;
Actively seeks cooperation with other teams/functions within the Damen (Workboats) organisation;
Continuously seek for improvements of procurement processes, procedures, tooling and systems;
Collects, consolidates, and manages relevant data related to suppliers, products, prices & categories;
Initiate and implement potential improvements regarding productivity, quality and (cost) efficiency of the supply chain.
We ask our future Procurement Manager to come prepared with the following:
You have:
Higher vocational education (HBO) level of thinking;
Several years of relevant (managerial) experience;
Relevant knowledge and experience in procurement, including supply chain within a complex and international environment; • Excellent communication skills in English and Dutch.
You are:
A result-oriented "Manager Procurement" with initiative and management skills;
Strong communicator, result-driven, and comfortable sparring with senior management;
Decisive and at the same time flexible in your approach;
Able to influence, put things into perspective and also know how to have the patience that is sometimes needed to achieve results;
Well able to manage expectations;
Willing to occasionally travel.
We want to make sure you are a happy Manager Procurement, so we offer:
The opportunity to develop yourself in this position. We are a growing organisation where innovation is the driving force. Entrepreneurship is in our DNA, and that's why we continue to grow and innovate and offer plenty of opportunities. All you have to do is grab them.
We offer you:
Personal guidance, freedom, varied work and a work environment where your opinion counts;
An excellent benefits package tailored to your experience and education level;
An International work environment;
Open, informal, no-nonsense culture with short communication lines;
An active social environment in terms of business culture, events & sports.
About Damen:
Damen is a family-owned, client-driven organisation that has been in operation since 1927. Our primary business involves ships, but we are not just a shipbuilder. We are a global operation of diverse people with a range of skills that deliver innovation and quality to the maritime sector. Our business priority is to deliver for the needs of the present, while working to solve the challenges of the future.
Still with us and ready to apply?
Apply online for the position of Manager Procurement by scrolling down and using the apply button at the bottom of this page. We look forward to meeting you!
Do you need a bit more info or looking for something that suits you better? 
Don't hesitate to get in touch with Bealien Schot at [email protected], Please send me a WhatsApp for questions or information. or explore other career opportunities at https://career.damen.com/ 
Damen Workboats does not approve of a commercial, contractor and/or agency acquisition or commercial use of this advertisement. Proposing candidates without invitation is not appreciated and will not be considered.