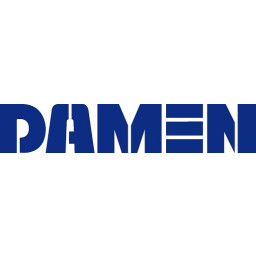 Damen Workboats
Proposal Engineer
Are you capable and creative in turning requirements into an attractive proposal? Can you do so while using the Damen standardized solutions? Then we need to talk! Apply now!
At Damen Workboats our goal is to develop, design, and construct a portfolio of tugs, dredgers or workboats in the most effective and efficient manner, primarily based on series production of (smart-customized) standard designs. Damen Workboats offers a range of innovative, standardized & smart-customized designs, fulfilling current and developing market demands, with well-balanced levels of quality, service, price, and delivery time thereby providing optimal solutions for our clients.
As a Proposal Engineer you prepare proposals based on requirements from customers in close cooperation with our Sales department. In this role you team up with the sales manager to create the winning strategy to deliver the best maritime solution for our customers. For the proposal you are responsible for all technical, cost price and delivery time-related information. This involves close collaboration with other departments within Damen.
You prepare execution method statements and cost estimations based on specifications for tugs, and determine the delivery times through close collaboration with other departments within Damen. In addition you will be substantively responsible for marketing and/or commercial activities and products together with the Communications and Marketing department.
In this role you will be:
Selecting the best fitting vessel with the necessary equipment, based on the client's criteria and our range of standard designs and standard options;
Consultation with various departments and external parties to arrive at an optimized solution for the client;
Drafting (or having drafted) the general arrangement plan, technical specifications, cost price calculation, and delivery date and other documents requested within the framework of the client's request;
Monitoring the progress of the project in the pre-sales phase;
Support the Sales Manager with your technical input during meetings with the customer. Where necessary by means of presentations and/or calculations;
Providing optimal knowledge transfer, when a tender becomes an order.
In order to be successful in this role we ask you to bring the following:
Bachelor degree in line with this vacancy;
Preferably a few years relevant work experience;
Affinity with proposal automation software (SAP, Salesforce, e.g.);
Excellent communication skills in English and Dutch is a pre.
As a person you are:
- Result-oriented, an Engineer with initiative and commercial skills;
- Able to influence and be persuasive, put things into perspective;
- Keen on time management and able to prioritize;
- Customer-oriented;
- Well able to manage expectations;
- Willing to occasionally travel abroad.
We want to make sure you are a happy Proposal Engineer at Damen Workboats, so we offer great opportunities to develop yourself in this position. We are a growing organization where innovation is the driving force. Entrepreneurship is in our DNA, and that's why we continue to grow and innovate and offer plenty of opportunities.


We offer you:
Personal guidance, freedom, varied work and a work environment where your opinion counts;
A work from home policy;
An excellent benefits package tailored to your experience and education level;
An International work environment;
Open, informal, no-nonsense culture with short communication lines.
We look forward to meeting you! Do you need more information? Don't hesitate to get in touch with Gerard Eggink (Recruiter) 06-10 26 55 93

Damen Workboats does not approve of a commercial, contractor and/or agency acquisition or commercial use of this advertisement. Proposing candidates without invitation is not appreciated and will not be considered.
#LI-GE2
Meer vacatures van Damen Workboats
Geplaatst:
6 dagen geleden
Do you want to work with an international team of 'can-do' people that are developing new and inno...
Geplaatst:
18 dagen geleden
As a Mechanical Engineer in our team you will be involved in the engineering of Fast Patrol Vessels.
Geplaatst:
1 maand geleden
Geplaatst:
1 maand geleden