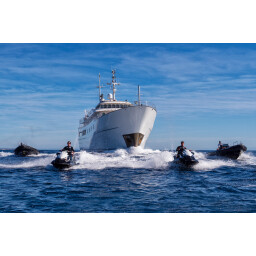 Sherakhan Yachting Projects BV
Chief Officer II/2 or higher for a luxury charter ...
Ms. Cynthia van Drie-Quiles
For our charter yacht Sherakhan, we're looking for an experienced and motivated Chief Officer! Sherakhan (70mtr, 1945GT) is classed by Bureau Veritas as a passenger ship, flying the Dutch Flag and is fully commercially operated. The vessel's regular sailing areas are Mediterranean, Red Sea and Caribbean. Hospitality is one of our key-strengths, and we expect all our crew including the Chief Officer to dearly value this aspect of our business.

We're looking for a Chief Officer with excellent communication skills, hands-on, a creative thinker, solution-oriented and able to work in a multicultural environment. The crew consists of captain+18/19, with various nationalities. Official language (spoken and written) is English, so it's very important to have well-developed English language skills!
We value experience, people skills, management- and leadership qualities. Backgrounds in gastronomy/hospitality as well as in the charter-industry are also preferable. You have strong management and organizational skills enabling you to perform solidly during charter operations.
Requested qualifications:
STCW II/2 Chief Mate all ships <3.000 GT or higher (preferably holder of a Dutch COC)
GMDSS
ENG1, European Seafarer Medical Certificate (it may also be from Iceland, Liechtenstein, UK, Switzerland, Australia, Canada, China, India, New Zealand, Ukraine, United Kingdom and South Africa)
Basic Training (STCW VI/1)
Proficiency in Survival Crafts and Rescue Boats (STCW VI/2-1)
Advanced Fire Fighting (STCW VI/3)
Passenger ship Crisis Management and Human Behavior (STCW V/2, paragraph 8-section A-V/2.4)
Passenger ship Crowd Management (STCW V/2, paragraph 7-section A-V/2.3)
Safety Training for Personnel Providing Direct Service to Passengers in Passenger Spaces (STCW V/2 paragraph 6-section A-V/2.2)
Security Awareness
Designated Security Duties
Note: all certificates are valid for at least 6 months upon embarkation. In case you're not in possession of the above mentioned Passenger ship certificates, you're willing to acquire these certifications.
Employment is based on a Dutch contract including a rotational schedule upon agreement. Estimated start-date would be September 2022.
We look forward to get in contact with you! Please send us an e-mail with your current CV including a photograph of yourself and your motivational letter (all in English) to [email protected] in attention to Ms. Cynthia van Drie-Quiles (only applications sent by e-mail will be taken into account!).
We're looking forward to receiving your application!