Kick-off virtual Navingo Career Event 2020 successful
First digital edition with thousands of participants in live skill-sessions, talk shows and showcases
Two days filled with talk shows, skill-sessions and presentations of companies and knowledge institutions gave shape to the digital edition of the Navingo Career Event. Participants look back on a successful 14th edition, in which via the Virtual Event Platform of Offshore Energy, knowledge and information about the maritime, offshore and energy sector was shared. For Navingo Career this is only the beginning: in December the next online career event is planned via the Virtual Event Platform that will be completely focused on career in the sector.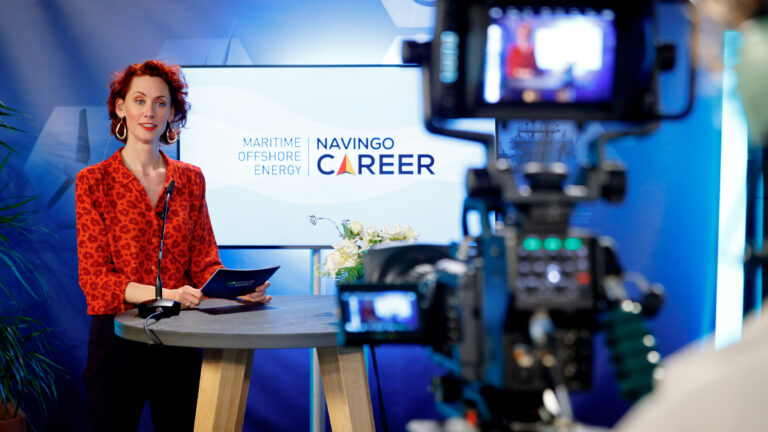 Visitors of the Navingo Career Event also had access to the programme of Offshore Energy on the 27th and the 28th of October and were able to get a good impression of the entire offshore energy sector.
The virtual setup – a combination of digital interaction and on-site activities – will remain: Navingo continues to organize a series of online events where jobseekers, interns, recruiters and companies can virtually meet each other based on specific themes and personal profiles. In this way, Navingo Career Event is a continuous event for sharing knowledge, vacancies, employer visibility and networking opportunities.
On demand
All talk shows, presentations and interviews that took place on 27 and 28 October can be viewed on demand here. Moderated by experts, talk shows took place on topics ranging from offshore wind to start-ups and from heavy lift to the energy transition. Dozens of companies, such as Damen Shipyards, TOS, TenneT, Boskalis, Feadship, and TWD shared their knowledge and presentations. Moreover, interviews took place with initiatives from the sector from amongst others Young Energy Officers, Delft Solar Boat Team and Jong Havenvereniging.
Interactive skill sessions
Visitors also participated on 27 and 28 October in skill sessions of, for example, DOB Academy 'Installing a Miniature Offshore Wind Farm' and Innovation Quarter, which gave a session, together with Maritime Delta, RDM Next and industry association NMT, on the question: 'How does innovation come about? Where do you start and what skills do you need?'
NavingoCareer.com
On NavingoCareer.com all interviews and sessions can be viewed on demand. Jobseekers can also find the latest vacancies from the sector here and are kept up to date about the coming online career events.
General director Coert van Zijll Langhout says:
"After 13 'face-to-face' editions in large halls, it was a challenge to go virtual, both due to time pressure and the efforts required to create a valuable virtual format for so many people and companies. I am very proud of our team for achieving this in such a professional manner. Over the course of these two days we have received positive feedback on the kick-off. We will continue to put in the efforts to make the coming online career events a success. The sessions of the last few days are now also visible for a wider audience through the on-demand page on NavingoCareer.com".