Van Oord
We create a better world for future generations by delivering Marine ingenuity.
We are a Dutch family-owned company with over 150 years of experience as an international marine contractor. We value open communication with our clients and stakeholders. Our company culture is one of entrepreneurship and engaged employees. We think and act with responsibility and focus on the long term. Our purpose is to create a better world for future generations by delivering Marine ingenuity.
As a global marine contractor with over 150 years of experience, we focus on dredging and marine construction, offshore wind, offshore infrastructure, and infrastructure in the Netherlands. We work closely and safely with our clients and stakeholders to create innovative and sustainable solutions.
Our purpose and mission have four main drivers. The growing world population needs more space. Maritime transport requires new and improved infrastructure. Climate change demands better coastal protection. The demand for energy is growing and a renewable energy system is essential to providing the energy needed for the future.
Community involvement
We believe it is important to make a contribution to the communities in which we live and work. That is why we sponsor cultural and social activities and initiatives in the maritime sector. The underlying principle of Van Oord's sponsorship policy is to give something back to or do something special for the community in which we are active. We involve ourselves in the environment in which we work by sharing knowledge and working with local experts. We add value by teaming up with research institutes, NGOs and other local partners.
Working at Van Oord
It's the ingenious people that make Van Oord: the things that drive them, their entrepreneurship, dedication, passion, team spirit and care, and what they want to share with the world.
The knowledge and experience of Van Oord's rich past are sources of inspiration and the foundation on which to build its future. Van Oord's employees' thirst for knowledge is encouraged by a focus on career development. Because our projects and the environment in which we operate change constantly, working at Van Oord is a lifelong learning experience, at all levels in the organisation. By sharing knowledge, Van Oord ensures expertise will be passed on to future generations.
Van Oord can offer a world of opportunities to professionals working on prestigious projects, good career prospects, space for personal and professional development and a competitive salary. The work can be demanding, so you must be flexible and inventive.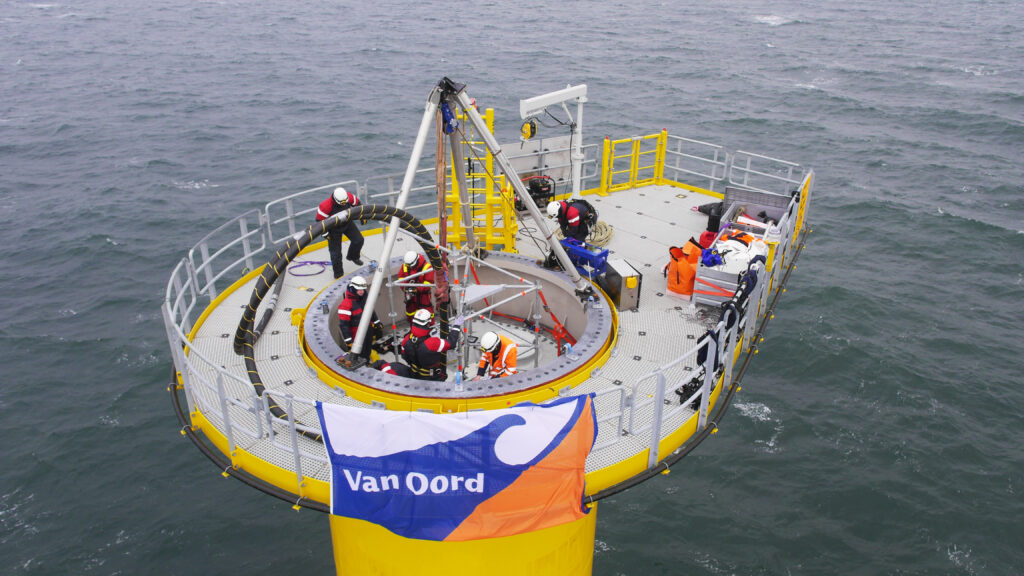 In exchange for this you will be given the opportunity of a lifetime. Van Oord also provides employees with various opportunities for further learning, including the Van Oord Academy. Our center focuses on Van Oord's core activities as an international contracting firm and on the expertise in execution, project management, procurement and safety. Based on this aim, we develop technical learning paths and global training programs.
Do you have a few years' experience, are you a team player, enterprising and would you like to broaden your horizons. Are you looking for a dynamic and versatile international environment in which your work is appreciated and rewarded well. If you recognise yourself in this description, Van Oord would like to meet you.
Kick-start of your career: Van Oord traineeship
Have you just finished your studies? Would you like to start your career within a leading maritime contractor, but you haven't finished learning yet? Would you like to continue to develop yourself through training and on the job experience? Then Van Oord's traineeship is definitely something for you!
With the Van Oord traineeship you will be ready for the next step in your career in no time. What your traineeship will look like is up to you. As a trainee, you will have a front row seat on world-class maritime projects, with a strong focus on sustainability and on your own development. You have the potential to grow into a key position within our company in a technical or staff department. We help you to work with confidence and to get the best out of yourself. Your personal growth is key. In addition to this, you will earn a good salary right from the first day!
Do you want to be a part of Van Oord?
Visit our website www.vanoord.com/careers. Please contact our Talent Acquisition department if you have further questions.
Facts about
Number of employees: 4500
Sectors: Inland shipping, Civil, Dredging, Energy, Marine Energy, Maritime, Offshore, Oil & Gas, Wind, Shipping
Preferred educational level: intermediate vocational education, higher vocational education, university
Career level: student, starter & traineeship (0-3 years), young professional (3-5 years), professional (5-10 years), senior professional (>10 years)
Preferred education: Civil engineering, offshore & dredging engineering, mechanical engineering, maritime technology, shipbuilding, maritime officer
Open vacancies: Superintendent, Technical Superintendent, Project Manager, Project Engineer, Engineer, Logistics Engineer, Procurement Officer, Offshore Construction Manager, QHSE manager
Gerelateerd nieuws
List of highlighted news articles
Geplaatst op:

over 2 years ago

Geplaatst op:

over 2 years ago

Geplaatst op:

over 2 years ago

Geplaatst op:

over 2 years ago

Geplaatst op:

over 2 years ago

Geplaatst op:

over 2 years ago